If you have problems with our image map navigator, you can use the Table of Contents to find our pages.

---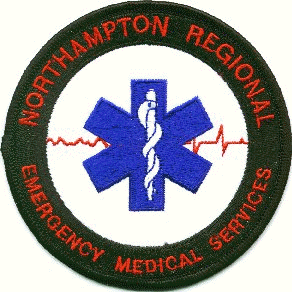 The Northampton Regional Emergency Medical Services, Inc. is a non-profit volunteer-oriented ambulance service providing emergency Paramedic/Advanced Life Support and and Basic Life Support ambulance service, with our headquarters located in Northampton, Pennsylvania. We provide our services to the Northampton County communities of Allen Township, Lehigh Township, Northampton Borough and North Catasauqua Borough and the Lehigh County communities of Hanover Township and Catasauqua Borough, including the Lehigh Valley International Airport. As a regionalized EMS services, our primary goal is to provide quality and efficient emergency ambulance medical care to our residents and visitors..
Our other services provided include non-emergency ALS and BLS ambulance transportation as requested between hospitals, from hospital to home, and from home to hospital, standbys at sporting and community events, and presentations to community groups. We also provide Para transit [wheelchair] transportation.

We provide mutual aid services as requested, as well as supporting the multitude of community groups in our area. NREMS is proud to support the seven fire departments within our coverage area.

NREMS is a continuing education provider, which gives us a unique advantage to provide superior training opportunities to our members, members of other services, and our local communities. See our training page for a list of the upcoming opportunities. You may register on-line, by mail, or by phone to attend any of these classes.

See our Coverage area map

The Table of Contents contains a complete list of the pages in our site. You can also navigate from the image map navigator, located at the top of most of our pages.
---
Want to know when our page changes? Enter your email address below in order to take advantage of this free service. You will receive email each time we update our pages.
---
Please sign up in our Guest Book today!!
---
Contact Information
We appreciate and welcome your comments. See our Feedback page for full and complete information.
DO NOT SEND EMAIL in the event of an emergency:

EMERGENCIES ONLY - Northampton and Lehigh County, dial 911.
For Northampton County 911 center [Outside of Northampton Co.]: 610-330-2042.
Hanover Twp., Catasauqua Borough, and North Catasauqua Borough [Outside of Lehigh County]: 610-437-5252
---

---
Please read our disclaimer statement before continuing.
Send mail to nrems@usa.net with questions or comments about this web site.
Last modified: June 03, 2000